Chihiro

General Information

English Name

Chihiro

Rómaji

Chihiro

Kanji

千尋

Age

17

Gender

Female

Hair color

Pink

Eye Color

Blue

Other Information

Height

Unknown

Weight

Unknown

Birthdate

Unknown

Blood Type

Unknown

Status

Occupation

Student

Relationships

Motomiya Mao (Friend)

Oda (Boyfriend)

First Appearance

Childhood

Chapter 11

Present

Chapter 1



Chihiro is Motomiya Mao's best friend.
Appearance
Edit
Chihiro has long wavy hair (usually colored pink in full-color illustrations). When Chihiro was in middle school, she had short hair (shorter than her shoulders).She is considered beautiful
During middle school, Chihiro is very popular and has many friends, but she and Mao grew to become very close friends. 
Personality
Edit
Chihiro is very cheerful. She often masks her emotions by being rude. She deeply cares about her friends and supports them. 
Relationships
Edit
Love Life
Edit
Oda - Chihiro was very rude to Oda before they started dating because she did that so she could cover up her feelings. She has liked Oda ever since middle school, and they have exchanged phone numbers (which was a big deal for Chi since she stupidly rejected Oda's first request for exchanging phone numbers). She grew jealous when Oda confessed to Mao, but she was still kind and supportive to Mao (who rejected Oda). Chihiro invites Oda to watch fireworks with her, and Chi blushes when Oda offers his half eaten hotdog for her to eat. She later confesses to Oda that she likes him, which makes Oda confused because he thinks that Chi and Mao both like someone different. Oda rejects her, and Chi feels very upset and cries, though she tries to hide her feelings by smiling.  In Chapter 30, Chi asks Oda if she could make him lunch, but Oda apologizes and says no.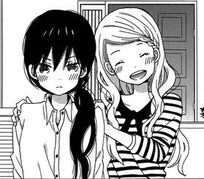 Motomiya Mao - Mao and Chihiro are really close. In middle school, Chihiro became friends with Mao when she sat near her in class. Chihiro is Mao's best friend. After Mao told her situation, she began to visit Chi-chan's home to learn how to cook.
Nakamura Daiki - Daiki and Chihiro do not have a close friendship, but they regularly talk and spend time together during school. Chi spends time with Daiki because he and Mao were together a lot. In Chapter 26 Future, Chihiro confronts Daiki and asks him about his feelings for Mao, which Daiki openly admits. Chihiro admires how Daiki was still devoted towards Mao despite her feelings toward Hiro. Chi blushes and says how she should give up on Oda, even though she still has feelings toward Oda. Daiki advises her that she shouldn't just give up. This motivates Chihiro to go for it again after hearing Daiki's words and his attitude. She thanks Daiki for his advice. [1]
Chihiro [about Oda]:
What should I do? I know I should give up, but...

Daiki: Why?
Chihiro: What do you mean... because he turned me down.
Daiki: But don't just give up. Mao turned him down, right? So there's no need to back down.
Chihiro [about Mao]: You haven't give up either.
Daiki: I never had the slightest intention of doing so.

Chihiro:
I should go for it again. That's right. It's okay for me to.
References
Edit
↑

Taiyou no Ie Manga: Chapter 26, Pages 21-27